The Turnt 10
Welcome to the Turnt 10, brought to you by Turnt Up Tours! We are back again this week with a touch of sass to shake things up for all you readers out there! The Turnt 10 this weekend features a variety of events ranging from special DJ performances, beer festivals, conventions, and shows to make your weekend that much more awesome!  Be sure to check our website for this weekend's tours times and ticket reservations, and if you're already coming out to turn up with us on tour this weekend, you're in one crazy Vegas experience!  Turnt Up Tours encourages you and your friends drink responsibly, stay hydrated and to always stay turnt up!!  
10. Miguel– This week's Turnt Ten fires off with Miguel, R&B's popular, talented, and downright sexy songwriter/singeMiguelr, at the swanky dim-lit late-night party spot Drai's Nightclub on Friday, Aug. 28th.  Turning up cities nationwide on his new 'Wildheart' tour, check out the Grammy Award artist perform #1 billboard throwback singles like 'All I Want Is You' and 'Quickie'  along with fresh new hits with creamy, soulful vocals that will make you feel some type of way turnt up! Visit Draisnightlife.com for tickets and table reservations to ignite your weekend!
9. Las Vegas DJ Show– There are two types of people in this world, those of us who enjoy getting Turnt up and there's the few who are behind the DJ Booth TURNING US UP! The Las Vegas DJ Show educational conference returns to Vegas to help DJs to build & grow their business by providing the highest caliber of educational content mixed with the best Entertainment that Las Vegas has to offer! The Las Vegas DJ Show is open to everyone. Evening events are designed to maximize networking and building relationships that last with friends old and new, also the Las Vegas DJ Show will feature turnt up nighttime fun with a VIP night at the Gorgeous Marquee Night Club, all this, coupled with an awesome Exhibit Hall with over 80 companies showing off their latest and greatest gear. This promises to be the "don't-miss event of 2015" going on from August 30th- Sept 2nd! For more info visit The Las Vegas DJ Show for tickets & registration. 
8. Dada Life– Come out and get your weekend started with world wide festival veteran DJ & producer duo Dada Life,  at this summer's hot spot premier nightclub Hakkasan on August 29th! If you've never seen a Dada Life set before, prepare to rage! These guys are known for pumping up crowds and turning up with their high energy club bangers and getting weird with their signature banana costumes! The Dada Life fan base is strong among the EDM culture scene, so expect to mingle with friendly fans and dance the night away with great people coming out to support their guys and party until lights out! Treat yourself on this night out to experience the bold evolution of the prestigious Hakkasan brand into an all-encompassing nightlife atmosphere offering patrons the opportunity to turn up with the Swedish due before they return home for an unforgettable time!  For ticket info visit Hakkasanlv.com
7. Fantasy Football Draft Party– Ladies and Edelman!! Next event on the list is for the fellas (and the few ladies). Hard Rock is throwing down a Fantasy Football Draft Party on August 29th, 2015. Last year you had a great season and won the championship… Cool story bro, tell it again. This is 2015 and last year doesn't matter anymore.  For those who had a losing season, it's a hard Gronk life but pick yourself up, don't be a dirty Sanchez butt fumbler. You got to fire back like Welker Texas Ranger and make it Wayne. See who the best is, take some time and come to the draft party. Learn something new, it couldn't hurt because after this draft party, you'll be making straight cash homey. And if you don't come, you're just Le'Veon a prayer. Event details here.
6. Beer Barrel & Project – Coming in at number 6 on the Thursday Turnt 10 is the deliciously tasting Beer and Barrel Project. You like beer, I like beer, she likes beer, he likes beer… everybody likes beer. Well check this out, you can join your fellow beer drinkers Saturday evening for an unforgettable beer celebration at Mandalay Beach! Enjoy a rare opportunity to taste craft beers and premium distilled spirits straight from the aged barrels, each chosen & blended to the specifications of Mandalay Bay's Food & Beverage executives. You can trust the executives, they know. But the question is, how do you soak up all that beer? Answer: Enjoy gourmet food pairings from Las Vegas' top restaurants including Fleur by Hubert Keller, Stripsteak, Aureole, TAP at MGM, and more! You've got all weekend to check this event out from August 28th-30th! Are you kidding? Top 10 number 6 is filling your stomach up right. Cheers! More info & tickets at BeerBarrelProject.com
5. Chuckie – Kicking off the top of the list is Chuckie at Wet Republic! Who's Chuckie you ask… go home, you're drunk. Chuckie has dropped the hits "Let the bass kick" and "Guess what", check them out on Youtube on your drive to Vegas.  This DJ has mastered the "dirty" house sound and will make your brain explode when he drops the beat. Don't say we didn't warn you! Wet Republic with Chuckie is a combination for a turn up you don't want to miss. So bring your crew out on August 30th and bump under the summer sun to infectious house beats in the spacious open-air lounge, or hit the signature saltwater pools and get in on the splash party!  Wherever you choose to be apart of the action, this event will be the best part of your day! Tickets at Wet Republic. 
4. Krewella – OMG Just stop, Krewella at Omnia!? Yep, coming in at the number 4 spot this week is the one and only, Krewella tearing up at the club on August 28th! Girls everywhere are going bananas.  Just now finding out?! Well the show is only half a day away at the hottest nightclub on the planet! You still have time! If you've yet to club at Omnia, you haven't seen anything yet! This place is just insane. When you walk through the doors, you know some crazy exec just dropped a ton of dough building this place. I mean, did you see the chandelier? Anyways, our little tip: Even if you're the hottest girl in Vegas, arrive early, because for an event like Krewella, the line is going to be all the way to the Bellagio. Watch these girls go hard and kill it with their original mixes that'll have you drenched in sweat from the heat they blaze this club. Get your ticket  Here!  
3. Daniel Tosh– Performing at the Mirage Hotel and Casino, he's the kind of guy bound to either make you fall out of your seat clenching your sides from dying of laughter, or piss you off five minutes into his act and have you squirm in your seat from his wildy inappropriate and offensive sense of humor. If you've never seen his popular TV Series hit TOSH.0 on Comedy Central before, i strongly advice to watch a few episodes so you know what you're getting into with this guy! Coming to Sin City on his summer tour, our very funny stand-up comedian Daniel Tosh will be performing a hilarious stand-up set with fresh material for his last one night only show on August 28th! Catch this show before coming out on tour for tear worthy laughs and a ridiculously good time before turning up at the clubs! Purchase your tickets at Mirage.com
2. Mad Decent Block Party– IT'S BACK! Having started out in Philadelphia, the Mad Decent Block Party has since gone on tour featuring heavyweight hip-hop/dubstep/trap DJs like Diplo, Grandtheft & RL Grime turning up cities all across the US this summer. Now the party is here in Las Vegas! The MDBP will have you all the way turnt up at the Encore Beach Club on August 28th! Crowds will loose their minds when they hear these  guys throw down sick heavy baselines and dirty drops that'll have this pool party on fire! Finishing up it's last round of tours before the summer season is over, expect a wild turn out for this event is ready to give it all its got for us in Vegas! This will  no doubt be the best block party you've never had! Tickets on Encore Beach Club's site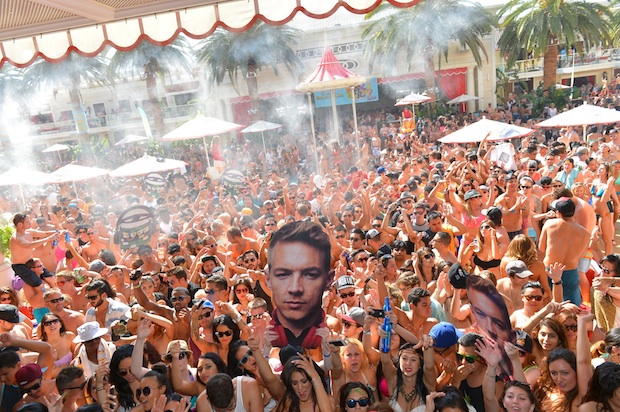 1. Ariana Grande– For those us that live here, it's been an aesthetically pleasing week gawking at the huge Ariana Grande billboard off of the I-15 driving into the strip. We all know of her off her biggest hits like "Love Me Harder" with The Weekend, "Best Mistake" with Big Sean and "Problem" with Iggy Azalea. Now our american sweetheart is making a stop in Vegas on her new 'Honeymoon Tour!' to perform the songs i know you belch out when you think no one is watching you at that stopped red light.  So why dont you love yourself a little harder and take the night to attend whats been reviewed as an impressive concert full of stunning visuals, entertaining back-up dancers and Grande signing chops that'll make you swoon! Catch this highly anticipated concert this weekend Mandalay Bay Events Center on August 29th! Ticket info at ticketmaster.com